€1,662.50
€1,385.42
€2,375.00
-712,50€You save 30%
Progear on turvaline ostukoht internetis
Turvaline ostukoht on E-kaubanduse Liidu poolt väljastatav usaldusmärgis Eesti e-poodidele. Usaldusmärgisega e-poodidest ostmine on tarbija jaoks turvaline, sest e-poe müügitingimused vastavad seaduses kehtestatud nõuetele ning nende tegevust monitooritakse liidu poolt järjepidevalt.
Loe lähemalt siit
All Estonian citizens or people with valid residence and work permit, can apply for installed payments through our partners: Inbank, LHV Hire-purchase, Holm Pank Liisi Hire-purchase. More info here: https://www.progear.eu/payment-methods/
If for some reason the goods purchased from the e-shop are not suitable for you, you can return the product(s) within 14 days, before taking it into use. We will refund the purchase amount immediately, but not later than within 14 days (in accordance to e-shop General Terms and Conditions of Sale, Section 4.).
In order to return a product, please complete our return form or send a withdrawal application in free form to the e-mail address progear@progear.ee. Product has to be returned or send back to Progear Showroom at Artelli 19, 10621, Tallinn, EE.
ADJ Vizi BSW 300W white LED liikuvpea
ADJ Vizi BSW 300 on 300W white LED valgusallikaga liikuvpea, mis pakub erinevates produktsioonides mitmekülgseid kasutusvõimalusi nii beam ja spot valgustina, kui liikuvpeana kasutamiseks. ADJ Vizi BSW 300 on hea lahendus erinevatele lavadele või eriüritustele ning ühendab endas motoriseeritud fookuse, motoriseeritud zoom funktsiooni,16-Bit Pan/Tilt positsioneerimise, strobo efekti ja palju muud. Pan: 540°; Tilt: 270°.
Vizi BSW 300
The Vizi BSW 300 is ADJ's most powerful LED Moving Head to date. It uses a specially designed 300W LED engine that offers massive output for most large venues and event productions. It is a great hybrid utility fixture as it acts as a beam, spot and wash all in one fixture. What's more, is it comes in a smaller footprint than most other movers in its class.

The Vizi BSW 300 offers motorized focus, motorized zoom, two 6-facet rotating prisms (one linear & one circular), 2 separate color wheels, 2 GOBO wheels (1 wheel fixed metal & one wheel rotating/replaceable GOBOs). There is a LCD function display on the front panel, with the rear panel offering powerCON In/Out and 3-pin & 5-pin DMX connections.
Features:
Hybrid Beam / Spot / Wash Moving Head
Gobo scroll mode
LED DMX 4-Button menu system
Auto X-Y repositioning
Gobo Shake effect for both wheels
Independent gobo and color wheels
Pan/Tilt Invert
16-Bit Pan/Tilt Positioning
Pan/Tilt speed adjustment
Prism Rotation
Motorized Focus
Motorized Zoom
Shutter: Pulse effect; random strobe slow to fast
Dimming: 0% - 100%
Strobe effect
Frost Filter
Omega Quicklock brackets included
Spetsifikatsioonid:
Valgusallikas: 1 x 300 White LED engine
2 DMX kanali laadi: 18 ja 21 kanalit
Pan: 540°
Tilt: 270°
Stepper motors with micro stepping
Valguse nurk: 1-9° (Beam); 10-20° (Spot); 12-23° (Wash)
14 colors + white
2 separate Gobo Wheels: Wheel 1: 6 Static Fixed Gobos + Spot & 3 Variably Sized Beam Aperture Gobos; Wheel 2: 7 Rotating Gobos + Spot (6 Colored Glass Gobos and 1 Metal Gobo)
2 separate Color Wheels: Wheel 1: 7 Static Colors plus Open; Wheel 2: 7 Static Colors plus Open including: CTO (3200K); CTC (5600K) & UV
6-facet Prisms (Circular & Linear)
3/5-pin XLR In/Out ühendused
PowerCon In/Out ühendused
Energiatarve: 345W
Multi-voltage Operation: 100-240V, 50Hz/60Hz
Mõõtmed: 376 x 325 x 545mm
Kaal: 22 kg
Pakend sisaldab:
ADJ Vizi BSW 300W white LED liikuvpea 1 tk
Omega quicklock kinnitusklambrid 2 tk
Ask from Sales Specialists for more information about this product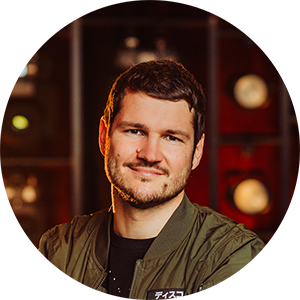 progear@progear.ee
+372 6728 280