Progear on turvaline ostukoht internetis
Turvaline ostukoht on E-kaubanduse Liidu poolt väljastatav usaldusmärgis Eesti e-poodidele. Usaldusmärgisega e-poodidest ostmine on tarbija jaoks turvaline, sest e-poe müügitingimused vastavad seaduses kehtestatud nõuetele ning nende tegevust monitooritakse liidu poolt järjepidevalt.
Loe lähemalt siit
All Estonian citizens or people with valid residence and work permit, can apply for installed payments through our partners: Inbank, LHV Hire-purchase, Holm Pank Liisi Hire-purchase. More info here: https://www.progear.eu/payment-methods/
If for some reason the goods purchased from the e-shop are not suitable for you, you can return the product(s) within 14 days, before taking it into use. We will refund the purchase amount immediately, but not later than within 14 days (in accordance to e-shop General Terms and Conditions of Sale, Section 4.).
In order to return a product, please complete our return form or send a withdrawal application in free form to the e-mail address progear@progear.ee. Product has to be returned or send back to Progear Showroom at Artelli 19, 10621, Tallinn, EE.
ADJ WiFly NE1 juhtmevaba DMX valguspult
ADJ WiFly NE1 on 432 kanaliga juhtmevaba DMX kontroller ADJ WiFly transiiveriga, mille sisseehitatud FX generaator toetab laia hulka seadmeid ADJ WiFLY seeriast. Valguspult on kasutatav RGB, RGBW, RGBA, RGBWA, ja RGBWA + UV LED, Inno Seeria valgustitega ning paljude teiste valgustitega. Lisaks on puldil eraldi "Blackout" nupp ja USB pesa (kaasas 8GB USB mälupulk). DMX väljund: 3-pin XLR.
ADJ WiFly NE1
No matter what your knowledge of DMX is, ADJ's new WiFLY NE1 controller combines a user-intuitive interface with built-in WiFLY to provide a wireless DMX solution that's revolutionary in its simplicity.
The WiFLY NE1 from ADJ is the DMX controller you've all been waiting for; a real game changer and the most universally-accessible ever. Offering you a versatile DMX control solution, the WiFLY NE1 is equipped with a built-in FX generator, for both LED and Moving Lights, and WiFLY transmitter, making it compatible with a range of fixtures from ADJ's WiFLY series. Along with wireless DMX transmission, the WiFLY NE1 also has a 3-pin DMX output for fixtures without wireless DMX.
There's a reason ADJ named this user-friendly controller the WiFLY NE1, and that's because it really can be used by just about "anyone" – no matter what your level of experience or knowledge of the DMX protocol. Because the compact controller simplifies each element, giving you the features of a larger, more powerful controller laid out in a convenient, user-intuitive way, a basic grasp of DMX is all that you need. With no sub-menus to complicate things, you can click the setting you want to adjust – with buttons for fixture, color, gobo, effect, show and pause – and change it using the on-board dials and numbered buttons. So, you can easily select between 1 and 12 fixtures, as well the pan/tilt settings, color settings and effect settings for each. With independent faders and buttons for the strobe effects and master dimmer, you also have easily accessible control over these atmosphere-enhancing features, allowing you to create more pure lighting excitement from behind the desk.
As well as offering this extensive profile library, ADJ has equipped the WiFLY NE1 with a built-in FX generator, which lets you choose from a plethora of movements for moving lights and LED chase effects, saving you the hassle and complication of creating your own. Whether you want to produce eye-catching color changing effects from your RGB par cans or program your moving lights to follow energetic patterns of movement, the WiFLY NE1 lets you do so with unprecedented ease.
While the WiFLY NE1 is incredibly easy to operate, it's versatility really comes from the built-in WiFLY, which enables you to control as many as 12 individual WiFLY-compatible ADJ fixtures using wireless DMX. This means you can increase the scope of your wireless setup, while still enjoying access to the simple but effective DMX operation offered by the unit's user-friendly layout. For those of you that also want control over your non-WiFLY units, the WiFLY NE1 comes fitted with a standard 3-pin DMX output.
Spetsifikatsioonid:
• 432 channel DMX Controller with ADJ's WiFLY Transceiver Wireless DMX on-board. (Can also be hard wired via 3 pin DMX cables)
• Designed for Inno Series and RGB, RGBW, RGBA, RGBWA and RGBWA+UV LED's but can control most DMX products that consist of 36 channels or less
• Built-in effects generator for moving lights and LED's
• Control up to 12 individual fixtures
• 12 Memories via 2 Banks
• 4 Rotary Encoders for Channel & Function Control
• Master Dimmer Fader Control
• Strobe Rate Fader Control
• 6 Mode buttons (Fixture, Color, Gobo, Effect, Show, & Pause)
• 12 Multi-Function buttons
• Blackout button
• Universal USB Port (USB Stick Included)

Tech Specs:
• DMX output connector: 3-pin XLR
• Power In: 9-12V DC min 300mA UL approved power
supply (Included)
• Power consumption: 2.7 Watts
• Mõõtmed: 32,5 x 18,5 x 6,8 cm
• Kaal: 2 kg
Pakend sisaldab:
ADJ WiFly NE1 juhtmevaba DMX valguspult 1 tk
8GB USB mälupulk 1 tk
9-12V DC min 300mA UL adapter 1 tk
Ask from Sales Specialists for more information about this product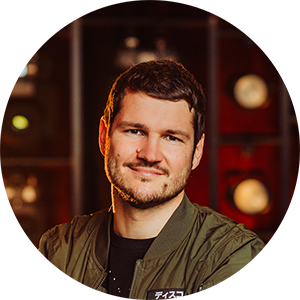 progear@progear.ee
+372 6728 280