Progear on turvaline ostukoht internetis
Turvaline ostukoht on E-kaubanduse Liidu poolt väljastatav usaldusmärgis Eesti e-poodidele. Usaldusmärgisega e-poodidest ostmine on tarbija jaoks turvaline, sest e-poe müügitingimused vastavad seaduses kehtestatud nõuetele ning nende tegevust monitooritakse liidu poolt järjepidevalt.
Loe lähemalt siit
All Estonian citizens or people with valid residence and work permit, can apply for installed payments through our partners: Inbank, LHV Hire-purchase, Holm Pank Liisi Hire-purchase. More info here: https://www.progear.eu/payment-methods/
If for some reason the goods purchased from the e-shop are not suitable for you, you can return the product(s) within 14 days, before taking it into use. We will refund the purchase amount immediately, but not later than within 14 days (in accordance to e-shop General Terms and Conditions of Sale, Section 4.).
In order to return a product, please complete our return form or send a withdrawal application in free form to the e-mail address progear@progear.ee. Product has to be returned or send back to Progear Showroom at Artelli 19, 10621, Tallinn, EE.
Chauvet Freedom Par Hex-4 RGBAW+UV puldiga LED prožektor
Chauvet Freedom Par Hex-4 on IRC-6 infrapuna puldiga juhitav ja akutoitel töötav LED prožektor. Valgusti on kompaktsete mõõtmetega, mobiilne ja kerge ning sobib hästi paigaldamiseks trussi sisse. Valgusti on juhitav tahvelarvutiga või telefoniga, kasutades selleks aplikatsiooni FlareCON™ Air või FlareCON™. Chauvet Freedom Par Hex-4 sisaldab endas veel sisseehitatud LED ekraani, 3-pin DMX ühendusi ja palju muud. Valgusallikas: 4 LED'i (hex-color RGBAW+UV) 10 W (2 A), 50,000 hours life expectancy. Valgusnurk: 23°.
Freedom™ Par Hex-4
The Freedom™ Par Hex-4 is the most colorful model in the next generation of the Freedom™ Par family. It has four 10-watt RGBAW+UV LEDs for that extra punch and the special effects that white and UV add to color mixing. The Freedom™ Par Hex-4 has a special limiter option for extending battery life so that when you use more than 4 colors you know you'll get a good long show! The Freedom™ Par Hex-4 comes in black or white housing so it fits into any décor and travels safely while charging using the Freedom™ Charge 9 road case.
Features
100% TRUE wireless, battery-operated, hex-color (RGBAW+UV) LED Par with built-in D-Fi™ transceiver
Multiple wireless triggering and control options via the FlareCON™ Air and the FlareCON™ app
Works in Master/Slave with first-generation Freedom™ Pars
Shine light where it is needed using the built-in adjustable kickstand
Built-in glare shield prevents light spillage
Extend the battery's lifespan with built-in discharge protection
Convenient, wireless non-DMX control using the IRC-6 remote
Create customized colors using the built-in LED display
Achieve smooth LED fading with built-in dimming curves
Safely store and transport your fixtures from gig to gig in the CHS-FR4 carry bag
Compact and lightweight design easily fits inside sticks of TRUSST®
Increase battery run time with built-in limiter circuitry that conserves energy when over 4 colors are in use simultaneously
Spetsifikatsioonid:
DMX Channels: 6, 8, or 12
DMX Connectors: 3-pin XLR
Light Source: 4 LEDs (hex-color RGBAW+UV) 10 W (2 A), 50,000 hours life expectancy
Strobe Rate: 0 to 25 Hz
Beam Angle: 23°
Field Angle: 34°
Operating Frequency: 2.412 to 2.484 GHz
Illuminance: 1,372 lux @ 2 m
Maximum Run Time (all on): up to 8 hours (with limiter on)
Maximum Run Time (single color): up to 20 hours
Recharge Time: 6 hours
Power Linking: 26 units @ 120 V; 50 units @ 230 V
Input Voltage: 100 to 240 VAC, 50/60 Hz (auto-ranging)
Power and Current: 35 W, 0.3 A @ 120 V, 60 Hz
Power and Current: 34 W, 0.2 A @ 230 V, 50 Hz
Approvals: CE, FCC
Kaal: 2,9 kg
Mõõtmed: 13,8 x 14,5 x 18,4 cm
Ask from Sales Specialists for more information about this product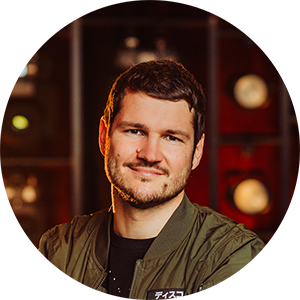 progear@progear.ee
+372 6728 280