Progear on turvaline ostukoht internetis
Turvaline ostukoht on E-kaubanduse Liidu poolt väljastatav usaldusmärgis Eesti e-poodidele. Usaldusmärgisega e-poodidest ostmine on tarbija jaoks turvaline, sest e-poe müügitingimused vastavad seaduses kehtestatud nõuetele ning nende tegevust monitooritakse liidu poolt järjepidevalt.
Loe lähemalt siit
All Estonian citizens or people with valid residence and work permit, can apply for installed payments through our partners: Inbank, LHV Hire-purchase, Holm Pank Liisi Hire-purchase. More info here: https://www.progear.eu/payment-methods/
If for some reason the goods purchased from the e-shop are not suitable for you, you can return the product(s) within 14 days, before taking it into use. We will refund the purchase amount immediately, but not later than within 14 days (in accordance to e-shop General Terms and Conditions of Sale, Section 4.).
In order to return a product, please complete our return form or send a withdrawal application in free form to the e-mail address progear@progear.ee. Product has to be returned or send back to Progear Showroom at Artelli 19, 10621, Tallinn, EE.
Chauvet Kinta FX on kompaktne, kuid mitmekülgne valgusefekt, mis sisaldab kolme efekti: teravate valguskiirtega LED Kinta efekti, laserit (Red, green) ning SMD LED strobo. Valgusefekt võimaldab Master/Slave ühendust teise Chauvet Mini Kinta valgusefektiga ning sisaldab kontrollimiseks DMX funktsiooni, Master/Slave režiimi ja IRC-6 puldiga juhtimise funktsiooni. Kinta FX-ga on kaasas kinnitusklamber ja toitekaabel.

Valgusefekti valgusallikad:
Kinta valgusallikas: 4 LED'i ( 1 Red, 1 Green, 1 Blue, 1 White) 7.5 W (2.4 A), 50,000 hours life expectancy
Strobo valgusallikas: 16 SMD LED'i white 5W (1.6 A) 50,000 hours life expectancy
Laseri valgusallikas: 650 nm/100 mW (Red) laser diode, 532 nm/30 mW (Green) laser diode
Kinta FX
Kinta FX combines an LED derby effect, laser and SMD strobe in one compact fixture. These effects can be coordinated to create a variety of exciting looks that feature multicolored derby beams, dynamic strobes and chases plus hundreds of sharp red and green laser beams. Control this versatile fixture easily via DMX, master/slave, optional IRC-6 remote or its digital display. Multiple units can be power linked to save time running cables and extension cords. Fits best in the CHS-30 VIP Gear Bag.
Features
Compact multi-effect with a Kinta, Laser and SMD Strobe
LED Kinta effect projects countless razor sharp multicolor beams
SMD strobes produce eye-catching strobe effects and chases
A red and green laser that casts hundreds of beams
Master/Slave with other Mini Kinta FXs for a coordinated show
Easily control the unit from DMX, Master/Slave, IRC-6 or the digital display
Save time running cables and extension cords by power linking multiple units
Spetsifikatsioonid:
DMX Channels: 2 or 9
DMX Connectors: 3-pin XLR
Light Source (Kinta): 4 LEDs ( 1 Red, 1 Green, 1 Blue, 1 White) 7.5 W (2.4 A), 50,000 hours life expectancy
Light Source (Strobe): 16 SMD LEDs white 5W (1.6 A) 50,000 hours life expectancy
Light Source (Laser): 650 nm/100 mW (Red) laser diode, 532 nm/30 mW (Green) laser diode
Strobe Rate: 0 to 20 Hz
Coverage Angle: 118°
Power Linking: 31 units @ 230 V
Input Voltage: 100 to 240 VAC, 50/60 Hz (auto-ranging)
Power and Current: 31 W, 0.3 A @ 230 V, 50 Hz
Bracket Mounting Hole: 12 mm
Optional Controllers: IRC – 6
Approvals: RTTE
Mõõtmed: 187 x 261 x 187 mm
Kaal: 1,7 kg
Pakend sisaldab:
Chauvet Kinta FX valgusefekt
Toitekaabel 1 tk
Kinnitusklamber 1 tk
Ask from Sales Specialists for more information about this product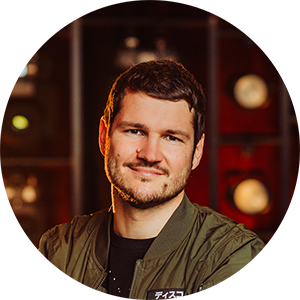 progear@progear.ee
+372 6728 280