Progear on turvaline ostukoht internetis
Turvaline ostukoht on E-kaubanduse Liidu poolt väljastatav usaldusmärgis Eesti e-poodidele. Usaldusmärgisega e-poodidest ostmine on tarbija jaoks turvaline, sest e-poe müügitingimused vastavad seaduses kehtestatud nõuetele ning nende tegevust monitooritakse liidu poolt järjepidevalt.
Loe lähemalt siit
All Estonian citizens or people with valid residence and work permit, can apply for installed payments through our partners: Inbank, LHV Hire-purchase, Holm Pank Liisi Hire-purchase. More info here: https://www.progear.eu/payment-methods/
If for some reason the goods purchased from the e-shop are not suitable for you, you can return the product(s) within 14 days, before taking it into use. We will refund the purchase amount immediately, but not later than within 14 days (in accordance to e-shop General Terms and Conditions of Sale, Section 4.).
In order to return a product, please complete our return form or send a withdrawal application in free form to the e-mail address progear@progear.ee. Product has to be returned or send back to Progear Showroom at Artelli 19, 10621, Tallinn, EE.
Native Instruments Traktor Kontrol X1 MK2 on Traktor süsteemile lisatav mitmekülgne DJ MIDI/USB kontroller, mis pakub mugavat kontrolli erinevate efektide ja funktsioonide üle Traktor Pro 2 DJ tarkvaras. Traktor Kontrol X1 MK2 sisaldab parameetrite ja efektide seadistamiseks multifunktsionaalseid puutetundlikke ribasid, samuti puutetundlikke nuppe ning palju muud. Traktor Kontrol X1 MK2 on ühilduv operatsioonisüsteemidega Mac ja PC ning vajab eelnevat Traktor Pro 2 tarkvara installeerimist. Tarkvara Traktor Pro 2 või mõne muu NI tarkvara allalaadimiseks NI ametlikult lehelt on tootega kaasas e-voucher väärtuses 50,00 €.

Süsteemi miinimum nõuded:
PC: Windows 7 või 8 (latest Service Pack, 32/64 Bit), 2.0 GHz Intel Core 2 Duo või AMD Athlon 64 X2, 2 GB RAM (4 GB soovituslik)
MAC: Mac OS X 10.7 või 10.8 (latest update), Intel Core 2 Duo, 2 GB RAM (4 GB soovituslik)
Ekraan: 1024 x 768 screen resolution
USB 2.0 pesa
1 GB vaba ruumi kõvakettal
High-speed internet vajalik
Decks and effects controller
Multi-purpose touch strip for playback, loops, and FX
Tactile control of multiple effects with 2 FX units
Touch-sensitive knobs access TRAKTOR PRO 2 browse and loop views instantly
Responsive DJ performance
TRAKTOR KONTROL X1 is the compact DJ performance controller with responsive controls over two TRAKTOR PRO 2 decks and FX units.
Compact TRAKTOR control
Whether DJing all-digital or with timecode control, the mighty TRAKTOR KONTROL X1 gives you total control of decks and effects in TRAKTOR PRO 2, with a unique combination of power and portability. Browse tracks, nudge, seek, or control loops and effects with focused precision. Without ever reaching for the laptop.
Built for pros
The X1 packs TRAKTOR PRO 2's decks and effects features into a portable, intuitive unit. Browse, cue, sync, and loop while the touch-sensitive strip and knobs deliver smart software navigation. Plus color-coded buttons and displays give clear visual feedback – so you can stay focused even in the darkest clubs.
Simple. Powerful. Smart
Touch strip
Get physical with your music. The X1's multi-purpose touch strip delivers ultra-precise command over track position, pitch bend, and FX. From nudging or needle dropping, to track seeking or loop length, the LED-guided touch strip's settings instantly adapt to match your needs – your fingers do the rest. Or assign it to control effect parameters, for some expressive firepower.
Reactive encoders
TRAKTOR KONTROL X1's touch-sensitive encoders even respond to reveal TRAKTOR PRO 2 views and functions. Instantly switch to the Browse view at the touch of the Browse button. Touching the Loop encoder while holding Shift+Play lets you see your track's key, while holding Sync reveals the tempo. It's all taken care of behind the scenes.
Designed for TRAKTOR PRO 2
Take your set to new heights with the flagship TRAKTOR PRO 2 software. Mix with up to four decks plus a stunning range of creative features for maximum mixing freedom. Discover the award-winning DJ software trusted by pros. A 50,00 € e-voucher comes included with TRAKTOR KONTROL X1 – use it to purchase TRAKTOR PRO 2 or any other downloadable NI software and expand your sonic arsenal (read e-voucher terms and conditions).
Spetsifikatsioonid:
Toide: USB
Mõõtmed: 294 x 120 x 52 mm
Kaal: 0.69 kg
Pakend sisaldab:
Native Instruments Traktor Kontrol X1 MK2 DJ MIDI/USB kontroller 1 tk
50,00 € e-voucher 1 tk
Ask from Sales Specialists for more information about this product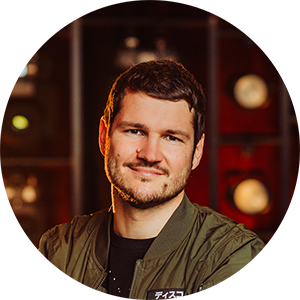 progear@progear.ee
+372 6728 280