OVERIG TV Quick clamp 29mm receiver SWL 250Kg, 48/51mm Tube, 50mm DMX interface
Available immediately
Shipping 1-2 Business Days
Progear on turvaline ostukoht internetis
Turvaline ostukoht on E-kaubanduse Liidu poolt väljastatav usaldusmärgis Eesti e-poodidele. Usaldusmärgisega e-poodidest ostmine on tarbija jaoks turvaline, sest e-poe müügitingimused vastavad seaduses kehtestatud nõuetele ning nende tegevust monitooritakse liidu poolt järjepidevalt.
Loe lähemalt siit
All Estonian citizens or people with valid residence and work permit, can apply for installed payments through our partners: Inbank, LHV Hire-purchase, Holm Pank Liisi Hire-purchase. More info here: https://www.progear.eu/payment-methods/
If for some reason the goods purchased from the e-shop are not suitable for you, you can return the product(s) within 14 days, before taking it into use. We will refund the purchase amount immediately, but not later than within 14 days (in accordance to e-shop General Terms and Conditions of Sale, Section 4.).
In order to return a product, please complete our return form or send a withdrawal application in free form to the e-mail address progear@progear.ee. Product has to be returned or send back to Progear Showroom at Artelli 19, 10621, Tallinn, EE.
PRO Mk2

The new industry standard of DMX interfaces
More next-gen features, smaller footprint. Introducing the new industry standard DMX/USB interface, PRO MK2. Control up to 1024 channels across 2 universes through one simple USB connection.
Optional MIDI connection expands your options, while the Standalone feature allows you to store your light show on-board and play it without your computer. Delays and dropouts are history, even under heavy use, thanks to a CPU six times faster than the previous generation. A machined aluminium box ensures the PRO MK2 is a durable road warrior. And its black anodised finish makes it the best-looking device in its class.
Features
Control Lights from your computer
Connect your favorite supported control software to your lights.

The next generation of USB interfaces is here, smaller footprint yet more features :

2 universe (1024 channels), MIDI IN/OUT¹ and Standalone operation.
Most powerful CPU
Newly designed electronics with a CPU 6 times faster than the previous generation, guarantees no delays or drop outs to your lights even under heavy use.
Attention to detail
The custom designed and precisely CNC machined aluminium box gives the product outstanding durability for on the road use. The deep black, tough anodized finish, makes it the best looking device in its class.
Un-paralleled connectivity
Two fully isolated DMX/RDM outputs or inputs can control up to 1024 channels. Optional MIDI In/Out¹ connectors allow integration with show control systems, or MIDI keyboards & surfaces. No need to carry multiple devices; the DMX USB Pro Mk2 does it all.
Standalone playback
Standalone mode allows you to store your light show inside the DMX USB Pro MK2 and play it back without connecting your PC. Ultra reliable, the inbuilt memory allows recording of full 512 channel light show. This feature is ideal for architectural, retail and display applications.
Outstanding control software
Windows PC and Apple OSX, D-PRO is the official supported control software for the DMX USB Pro MK2.
Recommended App
D-PRO 2U is a software based lighting controller which plays well with a host of different professional level hardware devices from ENTTEC.

Includes D-PRO Player, a touch screen firendly interface to easily control your cues.

An OSC controller (such as TouchOSC) can be used to remotely control D-Pro.

Windows and Mac OSX compatible

3rd Party Apps:
Capture Atlas (Windows)

Freestyler (Windows)

LightFactory (Windows)

Lightforge (Windows)

Lightkey (Mac OSX)

Martin M-P C (Windows)

QLC + (Win / Mac / Linux)

Resolume Arena (Win / Mac / Linux)

Show Cue Systems (Windows)

Pakend sisaldab:
Enttec DMX USB PRO Mk2 valguspult 1 tk

Micro USB kaabel 1 tk

DMX Breakout kaabel 0.1m (DB15 to 3x 5pin DMX) 1 tk

Ask from Sales Specialist for more information about this product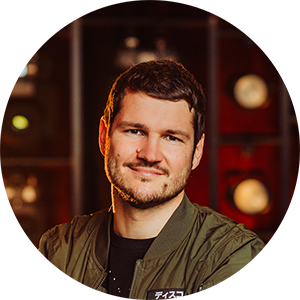 Mikk Saar
mikk@progear.ee
+372 6728 280